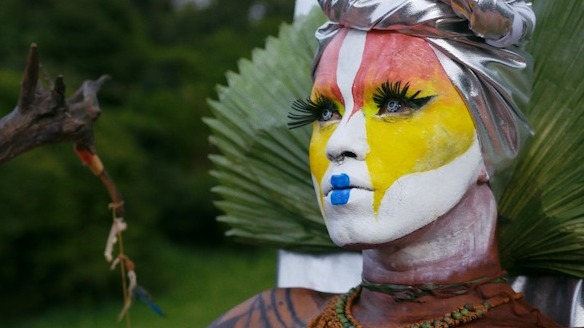 UÝRA: The Rising Forest
Screenwriter and Producer


An award-winning documentary feature film that tells the story of Uýra, a trans indigenous artist, travels through the Amazon on a journey of self-discovery using performance art to teach indigenous youth that they are the guardians of ancestral messages of the Amazon forest.

In the country that kills trans, indigenous and environmentalist youth the most in the world, Uýra is the body that Brazil insists on killing. As a trans indigenous artist, their existence and resistance has been a source of inspiration and unity, fostering a revolution in the arts, education, the queer scene and environmental causes in the heart of the Amazon Forest.

In 2022, the film was screened at over 35 festivals in more than 15 countries, had 3 impact events in the Amazon, had 2 video-art performances extracted of the film shown in a Museu do Amanhã in Rio de Janeiro and Currier Museum of Art in Boston, received 16 awards and a special mention.

Internationally and critically-acclaimed, featured in outlets such as Hollywood Reporter, Variety, and the Golden Globes Hollywood Press Association, the film had its world premiere at the 46th Frameline International Film Festival, receiving the Audience Award for Best Documentary and its first festival screening in Brazil was at 46o Mostra de Cinema de São Paulo.

in 2023, the film was slected as part of the 36th Season on POV and was commercially release on movie theather in Brazil.

Credits
Directed by Juliana Curi
Brazil/USA
70 min
Produced by Juliana Curi, João Henrique Kurtz, Lívia Cheibub, Martina Sönksen and Uýra
Written by Martina Sönksen and Juliana Curi
Brazilian Distributor by Olhar Distribuição

Grants, Fellowships and Labs:
2020 fellow at the BRIClab Film+TV Doc Society Climate Story Fund 2021 Climate Story Lab Amazônia 2021

A Production of Azores Filmes (Brazil) and Mama Wolf (USA), in co-production with Abou Farman, Ezequiel Soules, Itaal Shur, Leandro Badalotti, Ram Devineni and Thiago Moraes with the support of Doc Society and BRIC Brooklyn.